Budget 2022
Budget 2022 was earmarked as one that would help the country on its post-pandemic recovery.
Finance Minister Paschal Donohoe and Public Expenditure Minister Michael McGrath outlined the Government's respective actions on tax income as well as increased spending this afternoon.
It's a €4.7billion package in total - including €1billion in increased spending and €500m in tax cuts.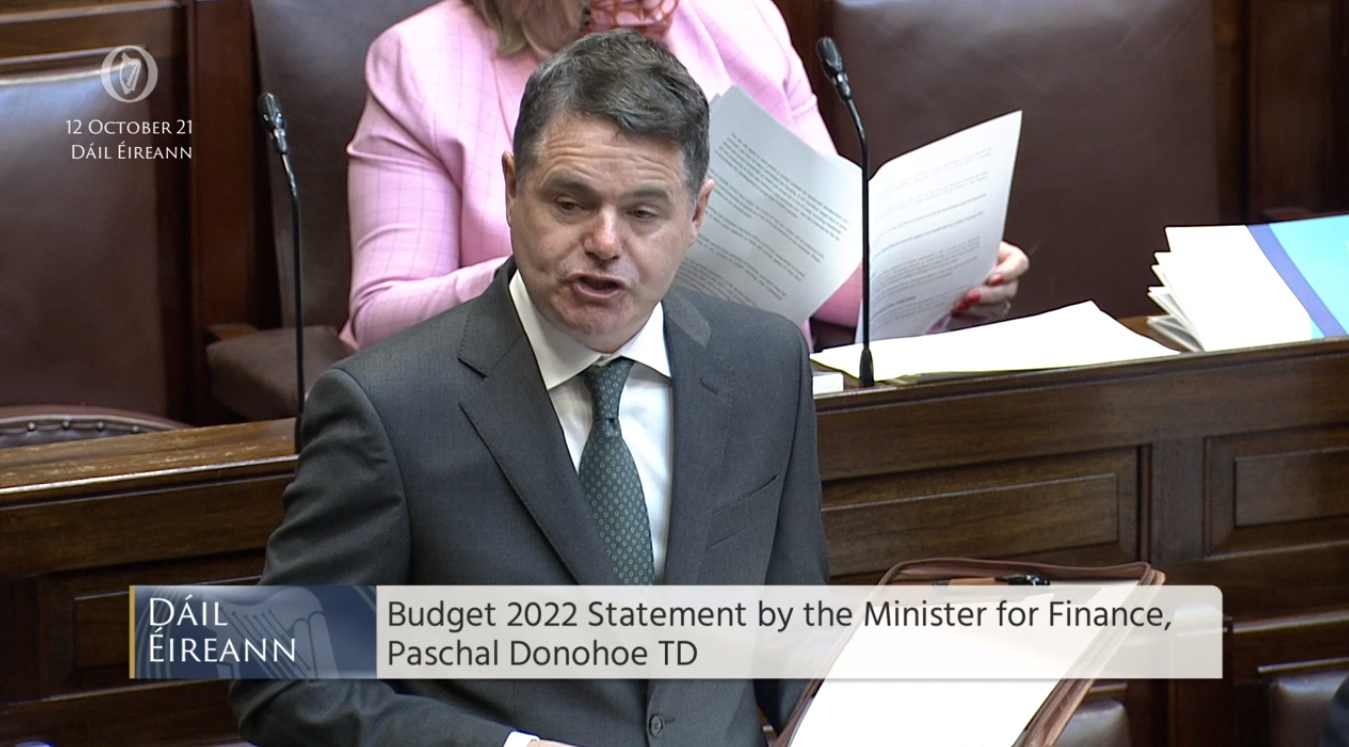 Here are some of the key new measures that were announced as part of the document:
Income:
A €4bn COVID contingency fund is being created
Employment Wage Subsidy Scheme extended in graduated rate until 30th April 2022
Employees will be able to claim back 30% of vouched expenses for heat, electricity and broadband for working from home
The minimum wage is rising by 30c to €10.50 an hour
Lower tax band of €35,300 will rise by €1500
Personal tax credit, employee tax credit and earned income credit increasing by €50
The ceiling for the second band of USC is rising to €21,295
The Help to Buy scheme will be retained for 2022 at current rates and reviewed next year.
Carbon tax will rise by €7.50 per tonne
This will lead to the cost of a full tank of petrol going up by €1.28 and diesel by €1.50
50c increase on the cost of a packet of cigarettes - bringing total cost to €15.
No changes to excise duty on alcohol.
Spending: 
A €5 weekly increase for all social welfare recipients
The back to school allowance will go up by €10.
New funding stream for 4,700 childcare providers from September 2022
78m extra for National Childcare Scheme - linked to no increases in costs for parents
Extension of free GP care to children aged 6 and 7
Pilot scheme to provide a basic income for artists
Live events sector to get €25m in support
Young adults aged 19 - 23 are to get a 50% reduction in public transport
€1.4bn to develop public transport including money for BusConnects, MetroLink and DART+
Women's health package of €31m, including free contraception for women aged 17-25 from next August
More funding for sexual assault treatment units
€37m for expansion of mental health services
8,000 new jobs across health system
An extra 800 Gardai will be hired and 400 civilian staff
Hiring 980 teachers and 1,165 new Special Needs Assistants.
3,320 additional CAO places as part of a €68m investment in higher education.
SUSI grants to increase by €200.
Income thresholds for families applying for SUSI grants to increase by €1000.
€200 student contribution fee for Post-Leaving Cert courses is to be abolished.
More funding for apprenticeships particularly in construction
Package on domestic and sexual violence including extension of legal aid for victims and funding awareness campaigns
Main image: Sasko Lazarov / RollingNews.ie