It looks like a spicy episode of Love Island tonight to kickstart our weekend.
Here's what's about to go down on Love Island Day 17;
THE ISLANDERS PUCKER UP IN TODAY'S CHALLENGE
Maura receives a text, which reads "Girls. Pucker up and get ready to lock lips with each of the boys in today's kissing competition. #snogathon #tenoutoften."
Anton who has been unlucky in love is excited at the prospect of having a cheeky smooch. In the Beach Hut, he says "I'm absolutely buzzing about it."
The boys line up but they're unable to see or hear the girl who they'll be kissing. Each girl will take their turn to kiss each of the boys. The boys then rate each girl's kiss out of ten. The girl with the highest overall score will be declared the winner.
As Amy takes to the stage, Curtis rates her kiss a seven out of ten but after Arabella soon follows, he gives her full marks. Curtis says about his kiss with Arabella "Good connection. It was a ten."
Amy is left unimpressed. In the Beach Hut, she says "Curtis gave supermodel Arabella a ten because it was a great connection. And he gave me a seven so that's not cool."
Yewande also gets a front row seat to Arabella kissing Danny. In the Beach Hut, Yewande says "I think Arabella went for it with Danny. This is her perfect opportunity to get to kiss him and I'm pretty sure it'll be her last."
But who reigned supreme in today's kissing competition?
After all the boys take off their blindfolds and realise that Curtis mistook Arabella's kiss for Amy's, the boys tease Curtis and all laugh. But Amy is not happy with the antics from today's challenge.
Curtis is keen to squash the issue immediately but Amy is annoyed that Curtis didn't know it was her when she kissed him. She says "I scratched your neck like I always do, so you knew it was me. And then you gave me a seven and rated everyone else really high."
Curtis says "I didn't know that it was you."
Can Curtis make amends with Amy? Or are the couple on the rocks?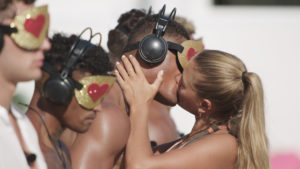 CURTIS TRIES TO REDEEM HIMSELF AND TAKES AMY DANCING
Curtis now has the opportunity to win back Amy's affections. At the fire pit, he receives a text, which reads "Amy and Curtis. You are going on a date. Please get ready to leave the villa. #turnthatsevenintoaten."
The pair head out of the villa and arrive at their date.
After scoring Arabella's kiss a ten out of ten, Curtis is keen to make up for annoying Amy in today's kissing competition.
Curtis says "I want to talk about today. I made a mistake. I feel like I did mess up. How are you feeling?"
Amy says "I've had time to cool down. I don't like to be made to look stupid. My pride was hurt a bit."
Curtis says "I don't know how I didn't know it was you. I felt really bad."
Curtis continues to woo Amy. He says "You are gorgeous. You are beautiful. You are a star."
The pair talk about their coupling. Amy says "We get each other. I think that's why we work so well together. You make me feel like a princess. I'm not an affectionate person but in the short time we've known each other I've become more like that. Nobody else is half boyfriend and girlfriend. That is unique to us."
Curtis says "I'm happy. We're going in the correct direction. I can't wait to see what the future holds."
Before they head back to the villa, Curtis asks Amy for a dance. Will Curtis' moves be enough to put him back in Amy's good books?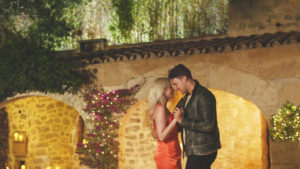 ARABELLA IS MAKING HER MARK ON THE VILLA
Yesterday, Arabella arrived at the villa and made no secret of the fact that she was interested in Danny, who is currently coupled up with Yewande.
Recently, Danny has been feeling that him and Yewande aren't moving in the right direction and has said that he was open to getting to know Arabella. Yewande can see that Arabella is making a move on her man, so last night she turned up the heat and showed Danny more affection.
Yewande is feeling positive after last night's events. Speaking with Amber, Anna and Amy by the pool, she says "Yesterday was nice. It was the first time we kissed in bed."
After lending Yewande some advice on how to woo Danny, Amber reflects in the Beach Hut. She says "She's a totally different person now. It's Yewande 2.0."
After witnessing last night's events, Arabella is keen to have a chat with Danny and see where his head is at.
Danny says "It was a shock to me how last night went."
Arabella says "Apparently you guys patched things up? I feel like I can't get to know you now."
Danny reassures Arabella "If I want to get to know you then I will."
Arabella believes that because she has shown an interest in Danny, Yewande has deliberately upped her game.
Arabella says "You seemed quite happy last night after you both kissed?"
Danny says "I'm going to have to see whether it continues. But I can't ignore how good our date was."
Speaking about Danny and Yewande's romantic connection, Arabella says "Surely the chemistry should have been there from day one?"
Danny replies "Like what it is with me and you?"
But Danny isn't the only boy in the villa who has taken a fancy to Arabella. Anton is still keen on getting to know the new arrival.
Known for laying it on thick, Anton is determined to play it cool as he chats with Arabella on the bean bags.
Danny joins Arabella and Anton's chat on the bean bags but Anton soon leaves the area, leaving Danny and Arabella alone and Yewande has spotted them hanging out as she looks on from the day beds.
Yewande says to Michael and Amber "I'm going to go down there and be affectionate."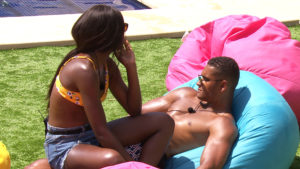 Yewande heads over to the bean bags and takes a seat on Danny's lap. She says "I'm going to sit on you because I want to."
Arabella seems to feel awkward with Yewande's recent move and later that evening, Arabella asks Yewande for a chat.
Arabella wants to know what is going on with Yewande and Danny. Yewande says "I think at the moment we're just really strong and we're going forward. Everything is looking good."
Arabella doubts this and says "Today, both of us [Arabella & Danny] were saying that we can't deny a connection. So, from my point of view I think he is telling you one thing and me one thing. He feels that he still wants to get to know me. Earlier I was chatting with him on the bean bags and you just came and sat on him. I just feel like it's a bit territorial."
Yewande says "I feel like if I am coupled up with someone and I want to sit on them then I can."
Arabella says "Do you not think you're going from nought to 150?"
Yewande says "I don't think sitting on someone's leg is me going from zero to 150."
Danny and Anton eavesdrop on the girls' conversation from the bean bags. Anton may be catching on that Arabella is keener on Danny than him. Anton says to Danny "You've got a model and a scientist fighting over you!"
After her chat with Arabella, Yewande heads over to the kitchen with Molly-Mae and Amber and she is definitely not happy with how her chat with Arabella went.
Yewande says "I am livid. She said I was being territorial over him."
Speaking with Lucie and Maura on the day beds, Arabella says "I'm not just going to go for a single guy because he is single."
But what is next for this new love triangle? Will Danny decide to progress with Yewande or is he ready to start something new with Arabella?
This content is brought to you by Eternal Beauty.