The original 'Evil Dead' was declared "too obscene" for homes, having been vilified amid the 'Video Nasties' censorship campaign of the early 80's. This week, more than 40 years later, its sequel is greeted by loyal fans who've taken the franchise to its fifth entry; a film about struggling ambition, mourned relationships, and family survival (both metaphorical and literal).
Forgoing the 'wayward teens in a cabin in the woods' formula, this film brings Deadites to the City of Angels where two estranged sisters, Beth (Lily Sullivan), Ellie (Alyssa Sutherland) and her three children, unwittingly uncover the Necronomicon beneath their LA apartment building.
'Evil Dead Rise' patiently establishes each of its five characters as the potential star of the film. So much so, when the book cracks open and the flesh starts to fly, it is (to borrow a phrase from another horror classic) genuinely surprising to see "who will survive and what will be left of them".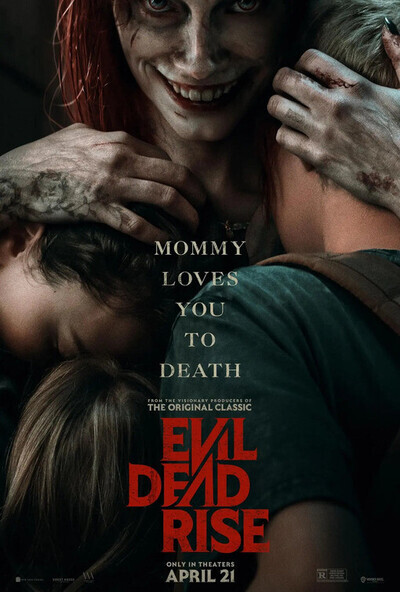 The wince-inducing kills are all the more impactful for having spent enough bloodless and sincere screentime with our likable leads. The contemporary metropolitan setting clings to its haunted-house roots nicely, with the family apartment building all but derelict, ready to torment our protagonists.
Director Lee Cronin, straddles the seemingly impossible task of adding new blood (6,500 litres of it) into the four-decades-old franchise. He retains the spirit of the series without putting an eye out using reductive 'knowing winks' to what has come before. No burden is laid at our feet to understand complicated lore, trivia or even the plot to previous films in the series. It's something few films in its position can achieve, to speak to many separate audiences at once without alienating any given one.
An often-misguided symptom of franchise-fatigue can be to "build out", and make no mistake, 'Evil Dead Rise' does take the requisite measures to do this (changing the setting, adding new characters). Uniquely however, it takes the time and effort to 'build in'. The original 1981 film gave its audience somewhat 'blank slate' teens to project their fears onto, characters who might have been otherwise reduced by their depth. Knowing less about a player makes it less complicated to position them in a story.
'Evil Dead Rise' shows just how far we've come in this regard. In place of cookie-cutter teens, we meet a complicated family, one we immediately grow to like. We're introduced to themes of motherhood, loyalty, duty-of-care and self-disappointment. What does it then say when the person you trust most in the world wants you dead by dawn? It begets questions of betrayal and introspection not necessarily expected of the heir to a "Video Nasty".
Most impressively though, it's bloody scary; Cronin confidently builds tension and terror without the need to hedge his bets by underpinning any of the scares with humour. The film is quiet when it needs to be, and it bleeds when it needs to bleed, neither being at the times you necessarily expect.
The 'Evil Dead' series is somewhat of an anomaly in the horror genre. The series has always  favoured quality over quantity. Compared to the twelve 'Friday the 13th' movies or thirteen 'Halloween' movies, 'Evil Dead' has yet to have a dud. It's a delight to be able to say that 'Evil Dead Rise' continues that streak. It's nasty, vicious and gloriously gory. Tinged with elements of dark humor; it is the best and scariest horror movie in years.
'Evil Dead Rise' is a relentless, rollercoaster of horror that puts its foot on your throat and doesn't ease up. Its brisk 96 minute run-time (remarkably the longest in the series) storms by and leaves you breathless by its conclusion.
4 Stars
Andy McCarroll
@andymc1983