You heard that right! Hold My Drink with Charleen and Ellie, joins acts such as Around the World in 80 Gays with Brian Kennedy and Katherine Lynch and Stall It with Darren and Joe as they make a triumphant return at this year's festival.
Electric Picnic's loudest and proudest podcast stage is back for the 2022 festival and is bigger and bolder than ever! Formerly known as 'Ah, Hear!', the stage has boasted some of the greatest Irish and international podcast talent and makes its return after the global festival hiatus (let's not talk about it) with new partner, NOW. Suitably titled 'Ah, Hear NOW!' ,the podcast stage will provide festival goers with entertaining, unique and unmissable performances. The Ah, Hear NOW! Stage will bring well-known, established podcast talent together with up-and-coming acts to offer audiences a weekend of diverse opinions, rich discussion and a weekend that will have something for everyone.
Ah, Hear NOW! promises a must-see line up with highlights like Blindboy Boatclub, The David McWilliams Podcast, Laughs of Your Life, Three Castles Burning, Where is My Mind?, The Group Chat, Stall It, Talking Bollox, Chancers and Hold My Drink. With more acts still to be announced, you don't want to miss the country's finest talkers holding court. From politics to sport and comedy to economics, the three-day programme will feature people talking that are sure to get people talking!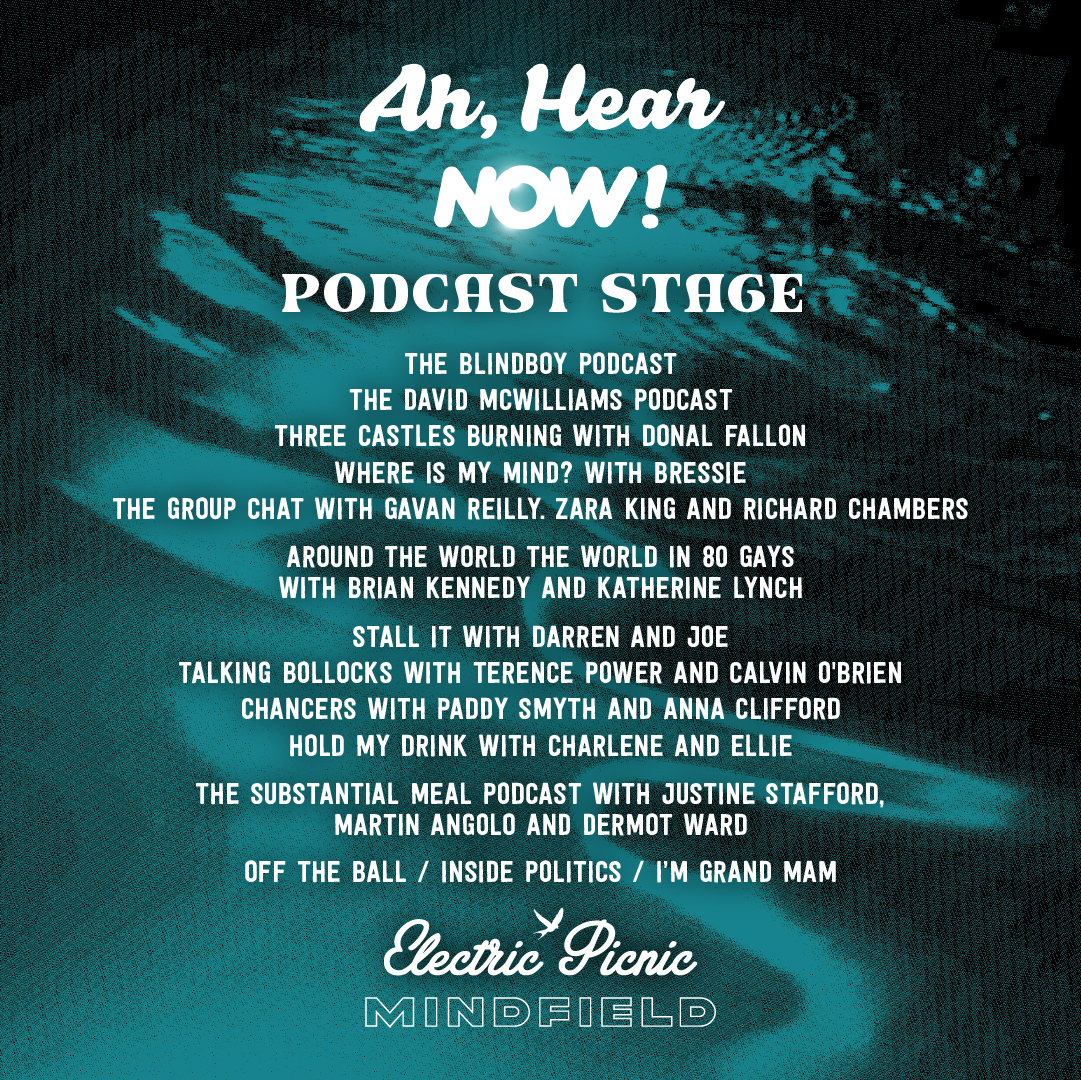 Where to find this epicentre of debate and intellect? In the MindField Arena of course! MindField, fondly known as Electric Picnic's pulsing brain, has over the years become a burgeoning hotspot of art, culture, homegrown talent and up-and-coming performers. Ah, Hear NOW! will sit amongst other Electric Picnic cultural giants such as the Leviathan Tent, the Manifesto Stage, the Theatre Stage, the Word Stage and Puball Gaeilge. Enter the arena and be ready for tough questions, inspiring answers, heated debate, huge laughs, provocative ideas, heart-breaking poetry, compelling podcasts, magnificent speeches, mind-blowing science, transcendent theatre, soaring literature and the beauty of an teanga Gaeilge and much, much more all set among the uplit trees of the MindField arena with its top class food and drink experiences. A true feast for all the senses.
Speaking about the partnership, Michael Forry, Director of NOW said, "NOW is the destination for choice for those who live for brilliant entertainment. We've been supporting the Irish podcast scene for several years and we are extremely excited to team up with what was the 'Ah, Hear!' Stage and build on its successes, while offering must-see shows for the festival goer looking for that unique conversational experience you won't get anywhere else over the weekend.
Founder of the Ah, Hear Podcast stage, Naoise Nunn has said, "It's very exciting to get a brand like NOW on board with the stage. The stage was created as an arena for quality discussion, debate and a diverse festival offering. Establishing a partnership with NOW seemed like a natural step and a way to invigorate the stage with even more adventure, fun and promise of quality content. Together, as Ah, Hear NOW! We will bring audiences more unique and unforgettable experiences than ever before."