Make your mouth funner!
Last year Fanta brought the battle of the flavours and Fanta Wildberry Zero came out on top!
Now is your chance to try the new flavour you voted for yourself!
To celebrate the launch of their new flavour- Wildberry Zero is Fanta's latest flavour, Wildberry in taste and of course zero sugar
We've teamed up with Fanta to play #SpotTheWildberry for the next two weeks.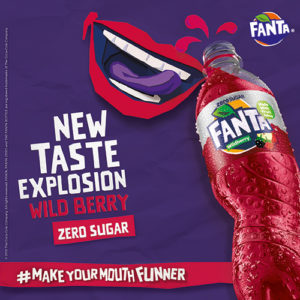 How to play 
#
S
pot
T
he
W
ildberry
We'll be telling you where you can find the Wildberry murals across the country for two weeks from the 6th May with clues on air.
Make sure you have that radio turned up because you don't want to miss out on the €2,500 jackpot.
Keep checking www.spinsouthwest.com/FantaWildberry for the updated clues!
When you find the Wildberry Murals, take a selfie and Whatsapp it into SPIN South West on 0877102103 using the Fanta keyword Wildberry and be in with a chance to win €2,500!
Keep an eye out for The SPINIs and the Wildberry Murals for your chance to win.
Here are the clues so far: