To celebrate the 20 year anniversary of one of the greatest shows of all time, NBC is opening a pop up 'Central Perk' in New York. 'Friends' first hit our screens on September 22nd, 1994, and from tomorrow, fans can visit the coffee shop and check out some of the actual props from the show. Now, once you get over the fact that Friends is 20 YEARS OLD, you can take a trip down memory lane with us, as we remember some of the best bits from the show... 
13. When they went back in time: 
12. When Ross drove us all demented with his 'break' chat: 
11. When we actually agreed with his drama for once: 
10. When Brad Pitt played Will and HATED Rachel:  
9. THIS....
8. When Monica did the turkey dance: 
7. When everyone in your class started to say 'Unagi'
6. Phoebe's smelly cat 
5. SHUT UP, SHUT UP, SHUT UUUUP:
4. When Monica got braids: 
3. Mike's fake piano: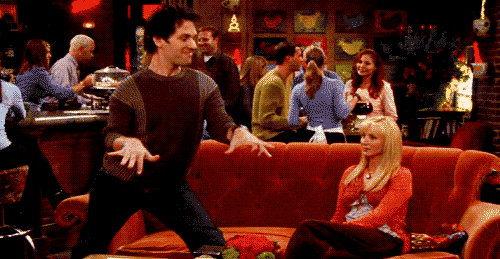 2. 'I Ross, take thee Rachel': 
1. And then it was over... #neverforget, sure how could we will all the repeats. 
Let us know what your favourite moments from the show are and remember 20 YEARS!!!!!!!