The second season of Stranger Things is coming to Netflix on Halloween, and we couldn't be more excited.
Slowly we've been getting small details about it, and each time we get more buzzed about the creepy and terrifying events that lie ahead.
Finn Wolfhard to plays Will was speaking to TV Line and has teased to the world that 'scarier stuff happens' in season two.
Finn also admitted that eerie events are in store for Will. 'Something happens to Will in the first couple of episodes that's very, very disturbing.'
Yikes.
The end of the first season saw Will return from the Upside Down, after he was rescued by Mike. It was clear that something was not right with Will once he came back. We did see him cough up a slug into the sink.
Gaten Matarazzo who plays Dustin, admitted that 'they know he is not well. But they are just trying to pretend that nothing happened.' As you do.
Co-creator Ross Duffer says that the horror and gore will be extremely in your face. 'Last season, a lot of the horror and a lot of what was happening with Will was off screen in the Upside Down. That's not the case in season two. The horror is more up-close and personal.'
And one last spoiler alert - the Duffer brothers have ended season two on a cliffhanger and said that viewers will be begging for a third season.
We. Are. So. Ready.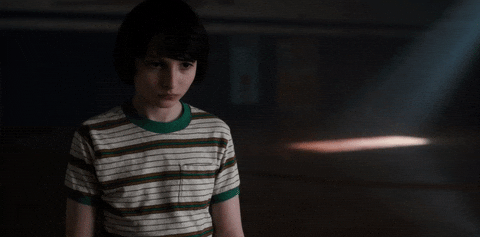 Here's the trailer.